Launching of this Historical Memorial. Was held on Friday 17th March 2017 at 11am
At Victoria Park Marley Street, Sale in Gippsland Victoria. Australia.
This Memorial and permanent Monument of Cherished Mother and Child was Officially unveiled by The Hon Darren Chester MP Federal Member of Gippsland, on behalf of MOTHERHOOD.  A representative of the Mayor of Wellington, and Wellington Shire Council opened this most moving event.
This beautiful memorial was launched on behalf of all mothers many of who are no longer with us.
It commemorates the cruel act of illegal unlawful and forced separation from their newly born son or daughter by the medical profession at public and private maturnity Hospitals.
It is now a place for acknowledging motherhood and for mothers and others to reflect and contemplate this precious and sacred relationship.
It was followed by light refreshments at Debridge Hall Marley Street Sale.
It Commemorates both the Prime Minister Julia Gillard's National Parliamentary apology given on 21st March 2013 and The Victorian Premier Ted Baillieu and Deputy Premier Peter Ryan's Parliamentary apologies on 25th October 2012.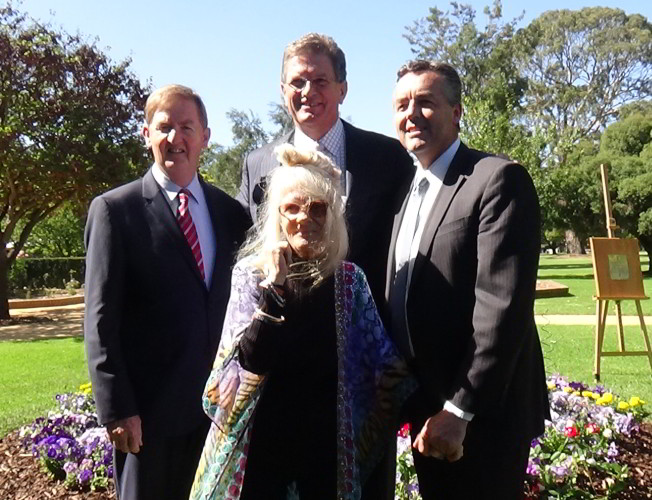 This is Brenda with Peter Ryan Former Deputy Premier,  Ted  Baillieu,  Former Premier Of Victoria and Darren Chester MP Gippsland.
BACK ROW : Former M.P.s Peter Ryan and Ted Baillieu, and current M.P.Darren Chester
FRONT ROW :  mothers Dorothy, Janet, June, Brenda, Lyn and Jo.
MOTHERHOOD NO DIVISION
MOTHER AND CHILD CHERISHED MEMORIAL in a pool of flowers in the Background.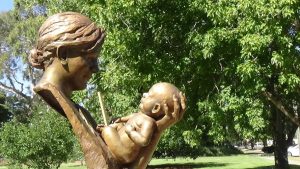 Bronze Mother and Child Cherished Memorial.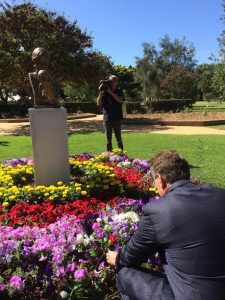 " They never saw the beauty of their baby asleep. never heard their first words, or saw their first steps. They did not take them to their first day at school or see them walk down the aisle" (words spoken by Premier of Victoria during Victorian Parliamentary Apologies 25.10.2012